It's seems more and more that people who work in the moto industry have a harder time to stay motivated to ride than ever before, and one of those guys is my good friend Marc Blanchard from100%. Marc is an industry icon who has changed the way most of us view the look of factory bikes and moto gear. A few months ago Marc was really excited to let me know that he had purchased a Husqvarna FE250 for his vacation home in Big Bear. His goal was to start riding some single track and control roads to see all of what Big Bear, California has to offer. Marc knows what he wants in a look of a bike, so he asked if I could help build up his bike to be more efficient with smaller blinkers and the license plate tucked up higher so it wouldn't get ripped off. I was honored to be able to do something for Marc because he has supported my career in some way since 2003.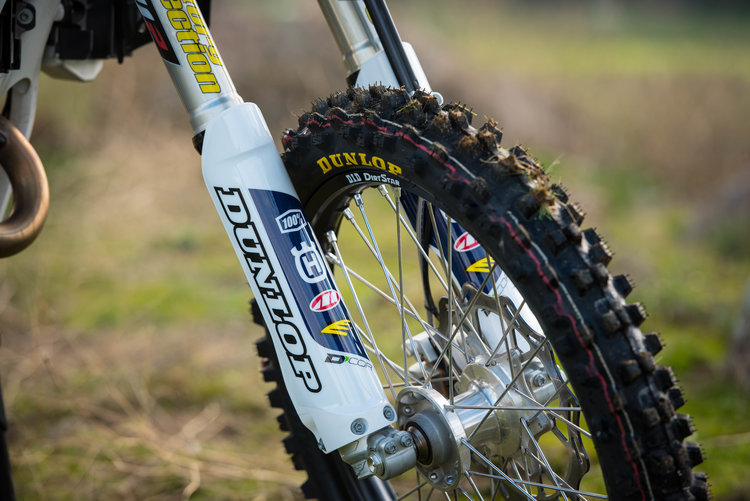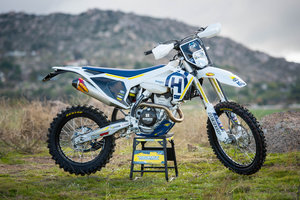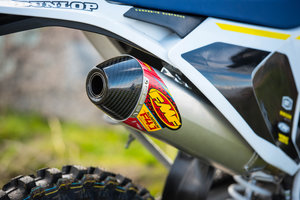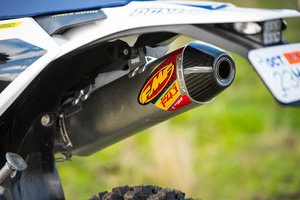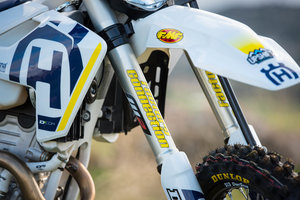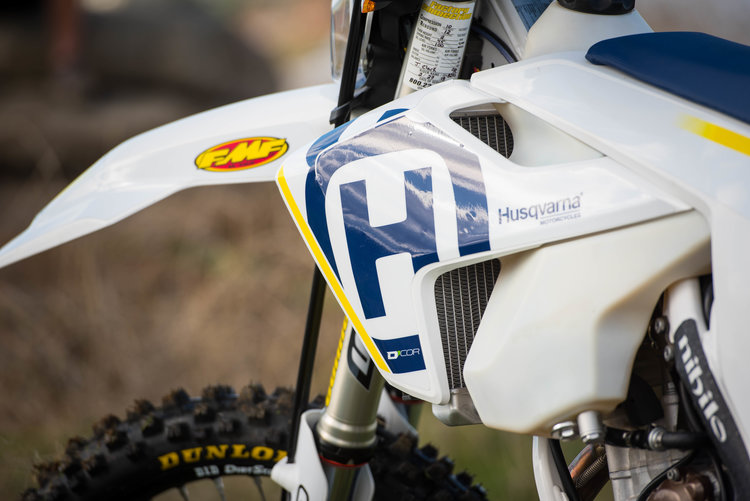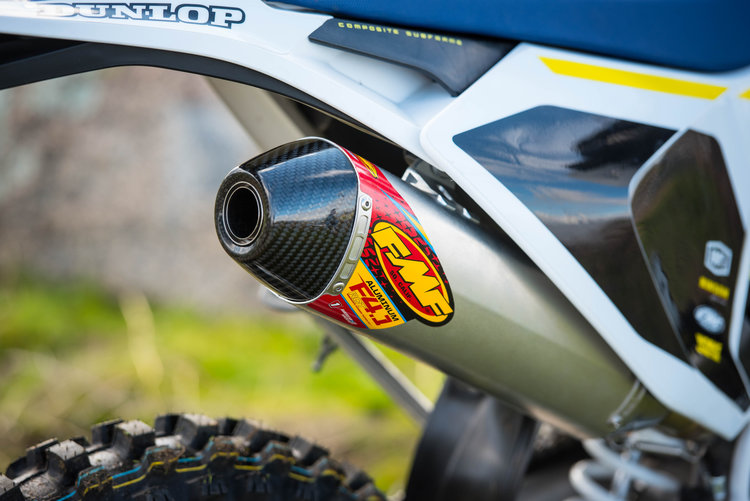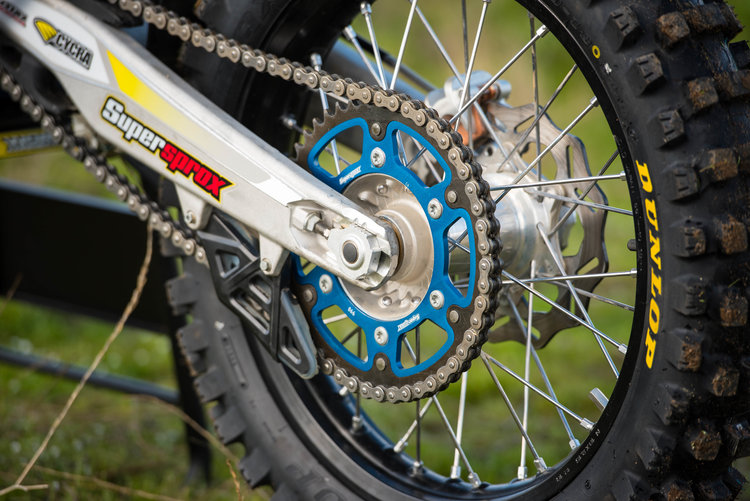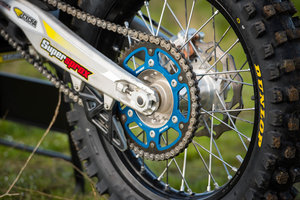 I thought this would be relatively easy to find a kit that would tuck the blinkers up on the fender, get the license plate up out of the way from the tire, and get Marc his bike back in a week or two. Well there isn't really a kit that is ready to go. I reached out to Simon Cudby from Upshift Online and he said to call Eduardo at 3 Brothers racing in Costa Mesa, California, and get one of their hand-built tail light kits. While I was on the phone with Simon this is where the project went sideways. Simon said "Let's do a test for Upshift on the bike!" I said yes before I knew I could pull it off, but I knew at the end of the day I could get some friends in the moto industry to help build Marc his dream bike. So that's exactly what I did. I pulled out the Rolodex and made some calls to get this project going. My goal was to keep the bike reliable but effective for the type of riding Marc wanted to do.
I received the light kit from 3 Brothers and it included some Husqvarna genuine parts to realign the license plate, and utilized some Sicass lights that are much smaller in size that gets them out of the way of the exhaust, and branches on the trail. The kit came complete with relays and all the connectors to make the blinker system much more trail ready, and took me about two hours total to install. The next thing I did was pull of the suspension and send it to Factory Connection to get the WP explorer for a re-valve. I wanted the bike to have a little more hold up without losing comfort for the washboard roads. I reached out to FMF and they supplied me with a stainless muffler for this bike to help it breathe. Speaking of breathing you can only get so much power out if you don't get it in, so the crew at Maxima got me a Pro Air Filter to help the bike breather better. The gearing is really good stock but I wanted to a little more of a durable sprocket, so Super Sprox got us a 45t with some nice blue anodizing. The standard clutch cover can where pretty bad and look hammered rather quickly, so I used a Hinson clutch cover to get that factory look and help the engine stay nicer longer. The standard tires are nothing to write home about, so we went with the Dunlop AT81 tires on standard rims. When it comes to the bling, Works Connection got us a nice oil filter cover and steering stem nut. The stock Pro Taper bars area nice bend, but the bar pad is terrible standard so we added one of the new Pro Taper matte black bar pads. When riding single track the bike can get hot so in the event of the bike sitting and getting hot we added a CV4 high-pressure radiator cap and white silicone hoses.
I was really happy with the mild modifications we did to the bike, but to finish it off we needed to make it look good. I reached out Danny Dobey at D'Cor visuals and he made us some graphics that I feel look great. To add to the look and comfort I went with Motoseat for a new navy blue seat cover that would be more comfortable for long miles. We also swapped out the blue OEM shrouds and yellow fork guards for white and I couldn't be more happy with the look.
With the bike finished, I couldn't wait to take it for a rip! The first thing I noticed was the sound and response. The FMF muffler, with the insert and screen in, made for a much better sound and response. Once I started hitting some bumps I noticed that the new setting on the WP explorer suspension is exactly what I was looking for. The bike had great response when hopping off rocks, but still very comfortable on the washboard roads. Is this bike ready for a GNCC or King of the Hammers? No! It's built for a guy who is going to ride some scenic roads, and tight single track on the weekends. I feel we built Marc the ultimate weekend warrior Enduro that he won't be intimidated of. Thank you to everyone involved in this build!
If you like this sorry and build head over to UpshiftOnline.com  
Oil and Air Filter- ‪MaximaRacingOils.com
FMF slip-on muffler - FMFracing.com
Dunlop At 81 – ‪RideDunlop.com
3 brothers light and plate kit – ‪3brosktm.com
Works Connection billet pieces – ‪WorksConnection.com
Hinson Cover- ‪HinsonRacing.com
Moto Seat – ‪Motoseat.com
Oil and coolant- ‪MaximaRacingOils.com
Sprocket- ‪Supersproxusa.com
Graphics – ‪Dcorvisuals.com
Factory Connection – ‪FactoryConnection.com
Nihilo Concepts – www.nihiloconcepts.com
All Photos and Video are shot by Simon Cudby and property of Upshift Online