My first time going to Perris Raceway was in 1993 where I lined up for a GFI winter series race in the 80cc beginner class where I would finish a rather depressing 24th overall. A lot has changed since the 90's when Motocross star Goat Brecker took over the oldest motocross track in California. There has been multiple different track owners trying to get this track back to what it was in the day.
In the past 10 years Perris has fell off the map for being one of the go to tracks for riders mainly due to very inconsistent prep and bad track design. That has all changed now with new management. They have hired Aaron Cooke to look over all marketing and management duties. Former pro rider Austin Prida and Sean Fogle are in charge of all track prep and design. Prida and Fogle know what the riders need and want by the looks of it and have came up with a lay out that is fun for all levels in my opinion. Yes there is big jumps, but if you aren't jumping them you can hit a landing halfway that still allows the track to flow. I was out at Perris last Tuesday where they connect the amateur track to the Main track and it's safe to say the crew at Perris has found the magic to reviving the track with the best dirt in Southern California. When prepped right you will have great over hanging ruts and bumps that rival the good tracks back east.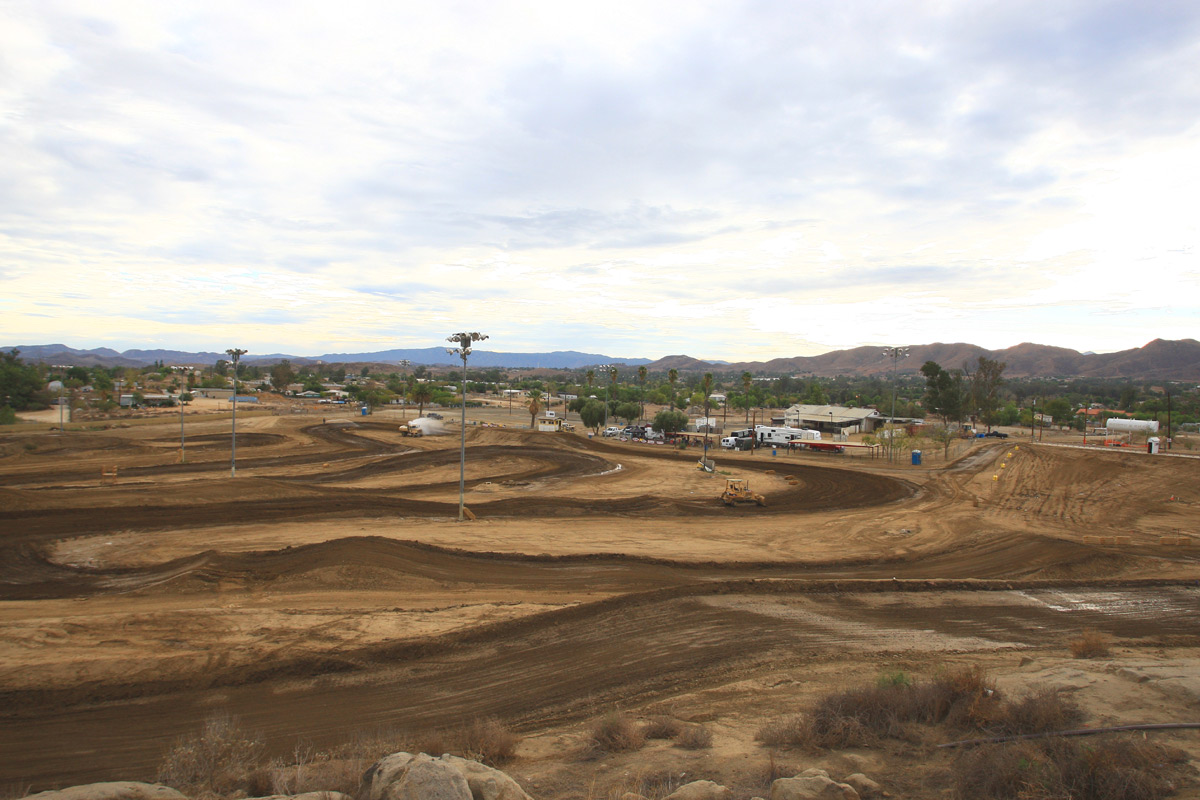 Other notable positive things about Perris is it's part of the Fast Pass with Milestone where you can ride both tracks unlimited for $80 a month. Perris also has lights for night riding and a mini night on Tuesdays starting at 4pm dedicated to only mini bikes. The 50 specific track has just opened and is aimed for the 50 rider 4-6 that are new to tracks. The Amateur track is the next step for kids to ride then comes the Main track where you see little guys jumping everything the pros do.
My overall opinion is if you are in Southern California you need to check out what Perris race way has to offer. The new crew has only been there for a month so I won't be holding my breath that things won't go back to the same as it use to be because history seems to repeat it's self in the Moto industry when it comes to tracks and there consistency.
Tracks
Main, Amateur, Pee Wee
Ammenities
Hook ups- NO
Bike Wash- Yes
Bathrooms- Yes "new"
Covered Parking- Yes "about 10 spots"
Hours
Monday - Closed
Tuesday - 9:00 am - 2:00 pm Open practice Main & AM Track / 4:00 pm- 9:00 pm Main Track Mini Night / No Big Bikes
Wednesday - 4:00 pm - 9:00 pm Open Practice Main & AM Track
Thursday - 4:00 pm - 9:00 pm Open Practice Main & AM Track
Friday - Closed
Saturday & Sunday - 9:00 am - 2:00 pm Main & AM Track
Directions
From Interstate 15. Exit 77-Central Ave/Highway 74 and head East.
Go 7.7 Miles on Highway 74. Make a Left on W Ellis Ave.
Make a Right on Burton Road. The Track is on the Right hand Side.
From Interstate 215. Exit 17- 4th Street /Highway 74 and head West.
Go 2.4 Miles on Highway 74. Make a Right on W Ellis Ave.
Make a Right on Burton Road. The Track is on the Right hand Side.
MORE INFO AT- PERRISMX.COM
Carson Mumford has been putting lots of laps at the all new Perris track layout