I got this wild hair up my butt and wanted to do a few WORCS races in 2016 but I didn't want to wreck my 2016 350sx so I decided to build a 350xc from a Craigslist find. My goal with this bike was to keep the budget low, but to have a great performing machine for of road style races like the AMA Big 6, SRA and WORCS racing events. It was hard to find the right bike to buy on Craigslist, but when I did it was perfect. I found a blown up 2015 350sx for $1,200.
Once I picked up the bike I got it framed and sent it off to powder coat out and put my parts list together and it wasn't a short one at that. Right away I reached out Jay Clark from Pivot Works for all new bearings for the chassis. I sent the suspension into WP Factory Services for a bit of a Hybrid setting. I wanted it comfy and plenty of traction for long motos and if there was any big jumps I would just manage them.

When it came to the engine KTM Factory Services was kind enough to donate some parts for the bike that they weren't using any longer because they were witching to the 2016 engine, so I pretty much had a Factory motor in my off road bike which I was very excited about. Hinson racing supplied all the clutch components necessary for the abuse of off road races. I had my last years FMF titanium exhaust from my SX model that I put on and that gave it the look and sound that I wanted using the spark arrester insert. DT1 filter and cage were also added to help the bike breathe a little better
The races that I want to do are over an hr long with different types of terrain that I'm used to so I knew that I needed to get a bigger tank and some hand guards to protect my hands from roost, bushes and rocks. Acerbis USA took care of my larger tank, hand gaurds, rotor cover, skid plate and replacement plastic. The fit and finish on these product was absolutely perfect and gave it the look and performance I was wanting.
A few of the little things that I added that make a big difference to me with look and performance are the Hammer Head brake and shifter, Motion Pro rim tape and wheel locks, Fasst Company Bar inserts, and brake spring. Nihilo concepts supplied frame grip tape, and axle nuts, I put on my 999 Renthal Twin wall bars with a 14-48 gearing and new chain for the longer straights. Another thing you need is comfy hands for long motos, so I went with the KTM production ODI lock on grips. These are my personal favorite grips in all conditions. For the look of the bike I used the crew at Split Designs to make the bike look like the 2016 models. I used Dunlop MX31's front and rear with a 18 inch rear from Tusk racing with both wheels using Moose inserts.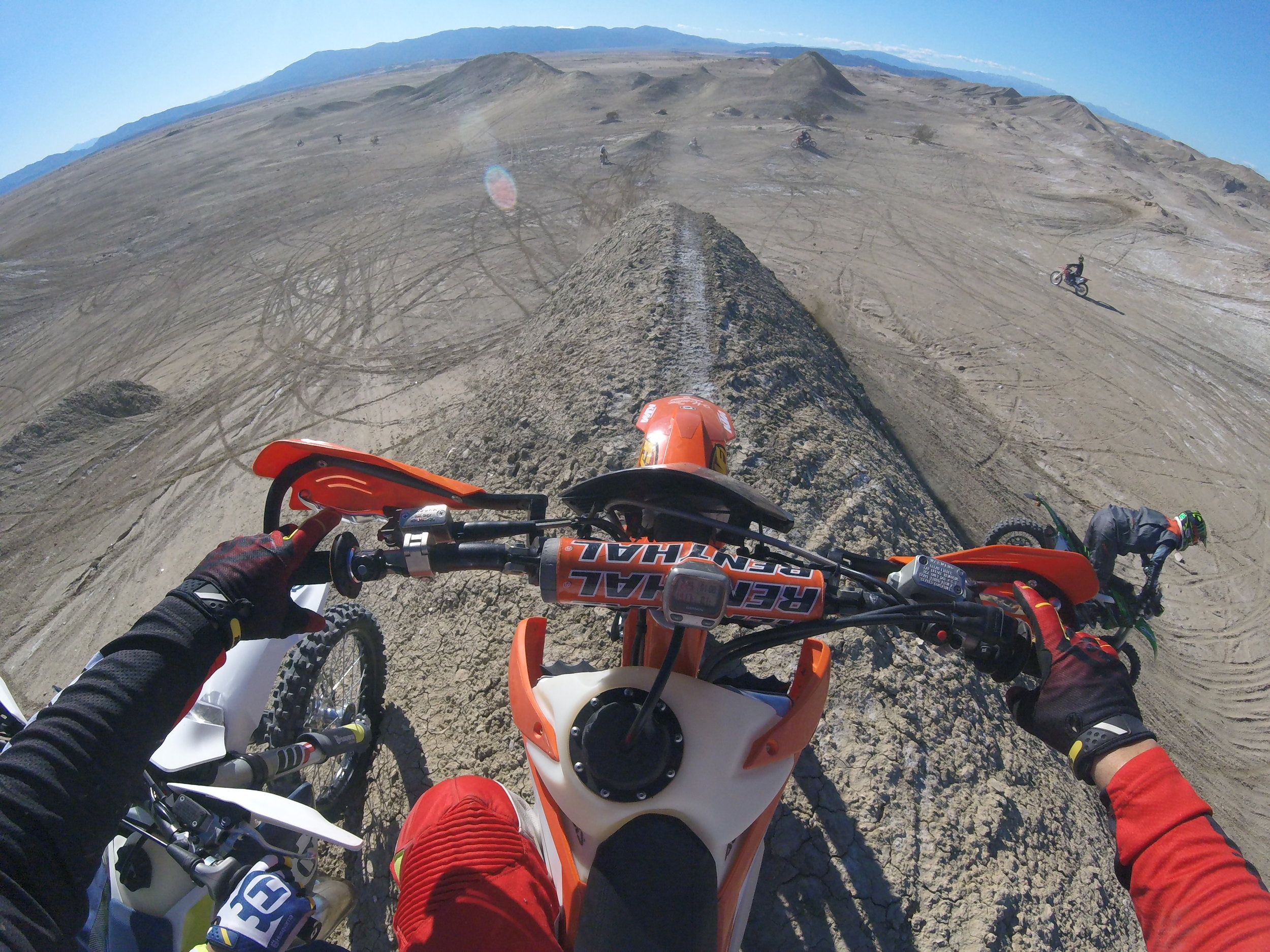 The build went pretty quick and the outcome was better then I could have expected. The Factory Services motor is amazingly smooth and strong. The suspension was a little softer then what I was used to but it worked great in the elements it was designed for. It took a little bit to get used to the older chassis again but it really wasn't that big of a deal due to the fact I had a big tank, hand guards and other things that made the bike different then my 2016 model SX. I raced two races on it right away, the WORCS race at Southpoint casino om Las Vegas where I finished a respectable 5th and the AMA BIG 6 at Glen Helen where I got my ass handled in the endurocross section finishing a 9th. I stull use the bike today but it's more for trail riding and to commute to build trails for my MTB.