If you follow me you know that my favorite 4-stroke to date is the KTM 350sxf. Why is this? I am not that big of a guy, I like to rev the bike and it's just plane fun from track to track. Is it down on power compared to a 450? . Yes it is, but in 2015 it is still faster then a few of the Japanese 450's. The great thing about KTM's is you don't have a bunch of work to do build a very competitive race bike for any level rider. I wanted to build a full on Race Bike this year and that's just what I did. I reached out to a few of the industry leaders to build a race bike that each and every one of you can build.
Ok we have established the KTM 350sxf could use a little more power on the front side of the motor to accomplish that I went with Matt Jory at Proven Moto. I spoke with Matt and he understood what I wanted. I wanted a motor that was reliable, that used the stock ecu and not have a ticking time bomb. Well Proven Moto provided just that. The Proven Moto power not only gave me more power on the front side, but increased top end power also. With out giving away all of Proven Moto's secrets this is what we did to get the gains that we did. First off we went with FMF for a full titanium system. Dan Crower built a cam for the specs that Matt Jory wanted, Hinson racing provided us a all parts that they had available for this model. Reliability is one of the biggest things to me and I know that KTM does not have a problem with electronics so we stuck with the stock ecu just reprogrammed using the KTM user setting tool. Vertex provided a high compression piston and Cometic Gasket took care of the gasket needs. DT1 filters and along with there billet cage helped the Proven Moto breathe. As Far as the motor goes that's it folks! Just the top half nothing done to the bottom end. When it comes to gearing I run the 13-50 stock gearing with Renthal sprockets and chain. Wheels is an easy choice the stock KTM whees are hard to beat. I used the standard wheel with the Dunlop MX 32 tires front and rear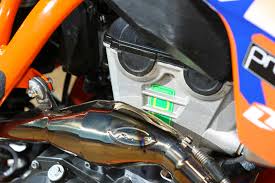 When it comes to chassis set up it was a no brainer to go with the WP 48 KIT forks and traxx shock. WP Factory services group took my countless hrs of testing and applied it to my kit suspension. I'm very comfortable with the standard suspension so I wanted to keep a similar feel but add a little more comfort and bottoming control. The tubes are a little more stuff on the fork so that helped with the control at high speed. On the traxx shock I like the traxx system closed so it feel more like a production shock. The WP group added more control and on the high speed and kept the plushness of the stock shock. I used stock top and bottom clamps with the PHDS bar mounts and Renthal Twin Wall bars. I also used the Renthal intellileverand ODI grips for my controls. Who doesn't love titanium? I chose the KTM power parts titanium pegs and a Nihilo brake tip where I place my sidi boots.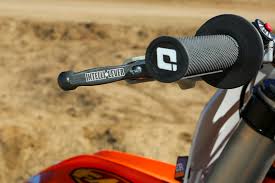 It's the little things that matter when it comes to separating your bike from your buddies. Nihilo also supplied the extra bling that I love to add in the right places. The billet gas cap, frame tape, and holeshot device gusset were just enough for that Factory look. I am also using a Factory Carbon Skid plate to guard the motor and frame from rocks or cases, Acerbis rotor gaurd and plastic, and ONE Industries graphics to finish the bike off.